All-in-One Quoting, Scheduling, Tracking & Billing Software
Designed By Contractors,
For

Contractors
More Profit, Less Pain
Big Software for the Small & Medium-Sized Business
Quoting, Scheduling, Tracking, Billing – From service work to large construction jobs, 360e is a workflow management software that connects all the areas of your business to each other through one powerful, web-based system. Mobile-friendly and easy-to-learn and use, 360e will increase your profits while eliminating the inefficiencies and operational headaches that diminish profits on a daily basis.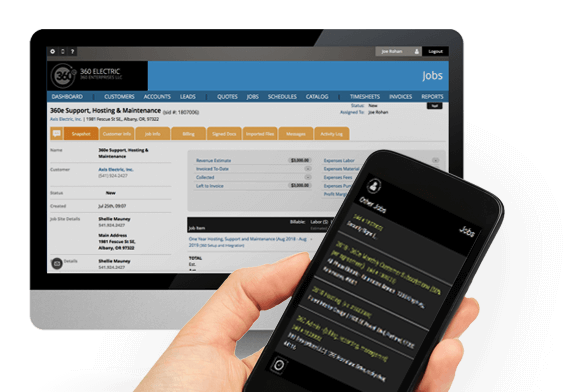 Sell and quote more effectively.

Eliminate job and scheduling errors.

Track labor and materials in real time.

Stop losing money on untracked charge orders.

Eliminate double entry.

Get paid faster.
Improve Your Business 
We'll Provide the Tools

 Industry Expertise
We are not just a software company. 360e was developed working together with contractors inside the industry. We support our product with hands on experience with the challenges that contractors face on a daily basis.

Customize Your Software
360e is not a boilerplate solution. That means that you are not sharing your software with all of our other customers. It also means that you can customize your software over time to manage your business with maximum efficiency.
 Affordable Pricing
Our mission is to deliver big-company software for small-company budgets. With multiple onboarding packages, discounts for startups and new businesses, and no per-user costs, you can be sure that we will stay committed to our mission.
Industries We Serve
360e's software solutions are designed to work across a number of different contracting industries. We offer time-saving solutions for industries where time is money. The industries we service include:
Electrical
HVAC
Plumbing
And more!
So, whether you're looking for effective scheduling software for contractors or you're focused on time and material billing software, 360e offers the solutions you need for the industry you're in.
Take a Look!
Browse Our Informational Video & Tour Our Services
Measurable Results
Ask Our Customers

Squires Electric
Portland, OR
"360e has brought efficiency and profit to my business. This software understands the daily challenges of the contracting world and meets them head on!"
~ Joe Squires, President
300 % Inceased Sales Growth in 2 years.
50% Increase in Operating Efficiency.

Overall Rating
Ease of Use
Customer Service
360e Welcomes …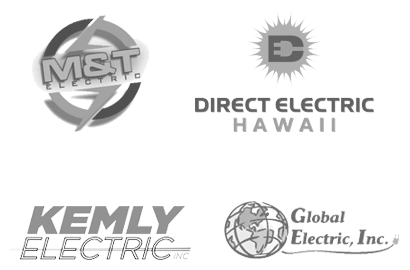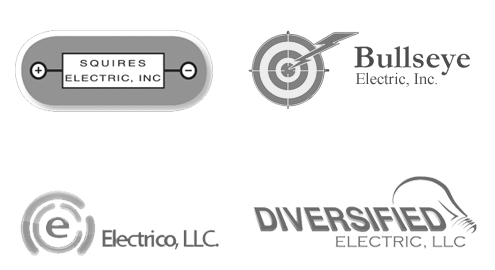 Measurable Results
Ask Our Customers
360e Welcomes …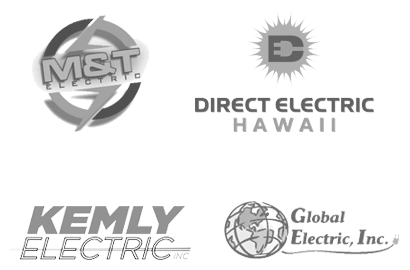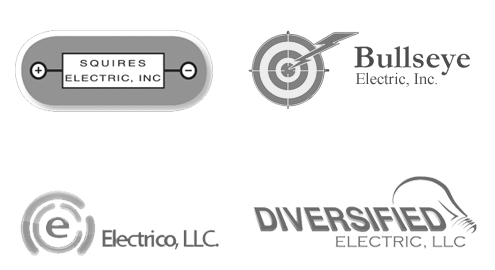 Start Today
3 simple steps to optimizing your business.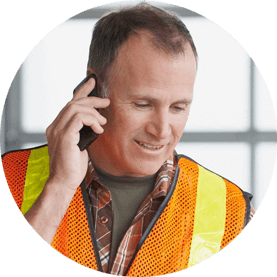 Contact Us
Call us at (800) 725-9897 or contact us online. After a brief introductory call to learn the specific needs of your business, we will set up your free trial of 360e with the option to take a personal demo with one of our experienced professionals

Demo/Free Trial
You are free to start using 360e every day. Our customer assistance team will provide all of the training and support that you need to get the most out of your trial period. Enjoy the full benefits of our software along with the support of our team.

 Optimize Your Business
Experience first hand how 360e improves the bottom line of business for thousands of electricians worldwide. Increase profits while eliminating inefficiencies and operational headaches. Start optimizing your business today!
Give us 15 minutes, we'll give you your weekends back!