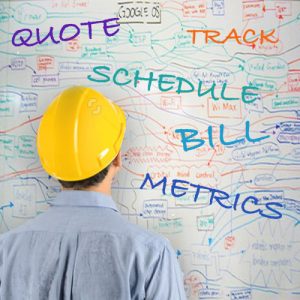 Designed by contractors, for  contractors," 360e's easy-to-use quoting, scheduling, tracking, and billing capabilities help boost the bottom line.
(Portland, OR – May 21st, 2019) – In today's challenging contracting industry, firms with less efficient workflow management processes will be at a competitive disadvantage. Thanks to 360 Enterprises LLC and its easy-to-use "360e" field management software, however, contractors can streamline their operations, take charge of their projects, resources, and businesses in a proactive way, and alleviate the inefficiencies that erode profits on a daily basis.
"There are many opportunities for money to be lost in the contracting industry, especially when it comes to quoting, scheduling, tracking, and billing," confirmed 360e founder and former contractor Joe Rohan. "If companies have a lot of paper-based and disconnected manual processes operating independently of each other and there's no connectively between them, business opportunities will move faster than the company's ability to capture them and inefficiency will eat away at their bottom line."
Following, Rohan discusses what he and his company have defined as "The 5 Money Pits of Contracting" — processes where money and profits are commonly lost and can easily go undetected:
Scheduling Jobs
In the process of conveying work orders to the field, missing or erroneous information related to the project such as addresses, contacts, access info, or other key job details costs time and money – "to the tune of nearly $1.50 in lost profit per minute, per worker being billed at $85/hour," Rohan said. With 360e software, however, an easy-to-use dashboard interface helps efficiently schedule and communicate important details of the job (including material lists, access codes, points of contact, and previous job histories) so that workers know exactly where they need to be and when, can plan ahead, and can proceed right to the job rather than waste precious man-hours getting organized.
Tracking Jobs
Additional scope of and/or unplanned work that contractors fail to document on their time sheets – such as the dimmer added to a lighting installation that never gets mentioned or billed — can end up giving away hundreds of hours of free labor and tens, even hundreds of thousands of dollars of profit each year. 360e software makes it easy for field employees to keep job notes on a daily basis while activities are still fresh so that lost or delayed information doesn't cost your firm money. In addition, the software's powerful ability to take and upload images and shared files to job folders between the field and office enhances clear communication and connectivity between all workers.
Generating Quotes
Quotes that take too long to generate and share with customers cost your firm money – and possibly jobs. 360e software protects best practices by simplifying the preparation of quotes, tracking them, and identifying the specific version of the quote that "sealed the deal." By having all notes and job history organized and trackable in one place, 360e software helps reduce needless administration and redundant double-entry and will help improve your firm's quote-to-sales ratio.
Billing Jobs
Invoices that go out late or inaccurately because you're waiting for time sheets, supplier packing slips, and other important job-related costs can directly hit your bottom line, negatively impact your professional reputation, and leave your firm footing the bill. By representing a central repository for critical information such as local labor rates, permit costs, daily notes, change orders, etc., 360e software gives billing administrators a real-time ability to protect profits by billing quickly and accurately, all while the job is in progress.
Reporting Results
While many firms only analyze projects post-mortem, 360e helps you see how a project is progressing in real time and alerts users if they're exceeding the hours budgeted for the project, need to pull a permit, etc. 360e's real-time tracking capability and easy-to-use alert system allow contractors to address problems while they're happening (and when you can still do something about them) rather than after it's too late, enabling your firm to avoid costly overages that could derail profitability.
Overall, "little things can amount to hundreds of thousands of dollars of lost profit if you're not aware of them," Rohan confirmed. "If you're inefficient in any three of the aforementioned '5 Money Pits,' for example, your firm's net profit might only be half of what it could or should be."
"At 360e, we understand the unique issues that contractors face — particularly small-to-medium-sized firms with 25 or fewer employees and under $10 million in revenue — and offer a software system designed to address and prevent lost opportunities and profit sink holes," Rohan said. "By using 360e to streamline processes, enhance connectivity, improve communication, and reduce redundancy, your firm will be far better able to focus employees on more revenue-generating activities, capitalize on growth opportunities, enjoy greater profitability, and position for future success."
About 360e
With offices strategically located in Portland, OR and Cleveland, OH to serve clients from coast to coast, 360e field management software has been transforming businesses in the electrical contracting, construction, plumbing, HVAC, and property management industries since its launch in 2014. Connecting all areas of a business to each other through one powerful, web-based system that's mobile device-friendly and easy to learn and use, 360e software will boost your bottom line by eliminating the inefficiencies and operational headaches that diminish profits on a daily basis. Thanks to its powerful capabilities in the areas of quoting, scheduling, tracking, billing, and reporting, 360e represents big software for small-to-medium-sized contractors and other businesses, keeping team members connected, avoiding wasted time and duplicative efforts, and helping companies capitalize on business-building opportunities.
Are you interested in the advantages that job management software can afford your business? Give our team a call at (800) 725-9897 or visit us online for more information!