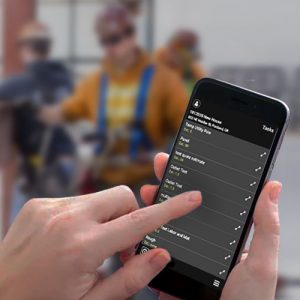 (Portland, OR – March 5 th , 2019) – 360 Enterprises LLC ("360e") is helping to usher in a new era in field management with its easy-to-use quoting, scheduling, tracking, and billing software expressly designed by contractors, for contractors. Powerful, user-friendly, and uniquely designed to remedy contractors' most pressing and costly pain points, 360e field management software represents a practical tool designed to keep team members connected, avoid wasted time and duplicative efforts, and capitalize on business-building opportunities.
Today's small-to-medium-sized contracting firms often struggle with a number of very real concerns, including slow and inefficient job quotation processes and multiple, disconnected computer systems that result in logistical errors, scheduling snafus, and other costly oversights. While larger contracting firms have the scale to tap into the market's more expensive and sophisticated field management software, however, smaller firms often find themselves abandoned by those software providers and overwhelmed by the many confusing solutions available in the market. Designed by a team with extensive contracting experience, 360e field management software offers small-to-medium-sized contracting firms an easy to use, cost-effective, and mobile device-friendly solution that successfully addresses contractor pain points through the following powerful capabilities:
Quoting – capable of supporting everything from simple to complex jobs, 360e's efficient quotation system enables quotes to be created and managed as well as sent and tracked from a central location. And through its "Best Practice Alerts," the system issues helpful reminders when a quote is due, a call needs to be made, etc. to keep contractors on top of their business and able to capitalize on opportunities.
Scheduling – designed for ease of use, 360e's streamlined scheduling system instantly connects all office and field team members to ensure that tasks don't fall through the cracks. Simple and flexible, the savvy system also understands that schedules change in the real world and quickly recalibrates to keep team members updated and on track.
Tracking – Time is money and delays, errors, or inconsistencies in labor hours, materials, costs, and other important job-related details can hinder payment and hurt profits. 360e recognizes that connectivity is critical and accurately tracks, stores, and shares labor hours, change orders, files, images, and job updates directly from the field in real time, avoiding information lags or time-consuming trips back to the office. Thanks to 360e's powerful tracking capabilities, critical information will no longer be lost or delayed and customer disputes can be easily researched and resolved or avoided entirely.
Billing – Late and/or inaccurate invoices can destroy a contractor's cash flow and drive the business under. With 360e, however, time sheets and information related to materials and costs are tracked with accuracy and consistency, enabling contractors to streamline their billing process and customers to trust the invoices they receive.
Reporting – 360e's easy-to-use reporting features can help contractors analyze their sales, assess their performance, evaluate the status of each customer, and uncover opportunities for sales and profitability improvement. Developed by a team of IT specialists with over 15 years of experience in the field of contracting (and numerous other industries), "we understand the unique issues contractors face, particularly small-to-medium-sized firms, and offer a software system that's customized to each contractor's unique pain points," shared 360e founder Joe Rohan. "Field management software can be complicated, confusing, and intimidating to many contractors, but our team lives in the industry, can explain 360e in their language, and will design and implement a simple and cost-effective system that will solve their problems, enhance their efficiency, and improve their business," Rohan confirmed. "We're excited to help companies use 360e to better navigate their operations, streamline their processes, take advantage of opportunities, and grow profitably."
About 360e
With offices strategically located in Portland, OR and Cleveland, OH to serve clients from coast to coast, 360e field management software has been transforming businesses in the electrical contracting, construction, plumbing, HVAC, and property management industries since its launch in 2014. Connecting all areas of a business to each other through one powerful, web-based system that's mobile device-friendly and easy to learn and use, 360e software will boost your bottom line by eliminating the inefficiencies and operational headaches that diminish profits on a daily basis. Thanks to its powerful capabilities in the areas of quoting, scheduling, tracking, billing, and reporting, 360e represents big software for small-to-medium-sized contractors and other businesses, keeping team members connected, avoiding wasted time and duplicative efforts, and helping companies capitalize on business-building opportunities. For a system demo and/or a free customized trial, contact 360e at (800) 725-9897 or visit https://www.my360e.com