Unparalleled Management Software
Simple, Honest Pricing & Endless Customization
360e service management software was specially designed by contractors, for contractors like you. Manage every aspect of your business, from payroll and job management to dispatch, call booking, invoicing, and more. 360e is all-in-one quoting, scheduling, tracking, and billing software designed to simplify your life as you grow your business.
Read below to understand why our clients continue to choose us. You can also start your demo/free trial today or call (800) 725-9897 for more information!

AFFORDABLE PRICING
Don't get trapped buying cheap software just to outgrow it quickly!
360e is big-company software made with small-company pricing.
We offer multiple pricing options and specialize in serving small- to mid-sized service companies.
Our pricing model is scalable so that our software can grow with your needs.
Our Commitment to Affordability
Affordability is one of our company's core values. If you decide that 360e
management software is for you, we will find a way to make it work.

NO PER-USER COSTS
Most other software companies make their money on per-user cost.This means that you have to pay them every time you add a user and you have to go through an account set up every time you add a user.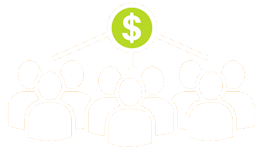 360e offers unlimited user accounts that you can set up yourself, eliminating extra costs, hidden fees, and unnecessary red tape.
NOT A SHARED SOLUTION
The Elephant Theory defined
Most other systems are designed to be built once and shared by as many users as possible. If there are too many people using a system like this at the same time, it slows it down to the point of crashing, sometimes for hours at a time.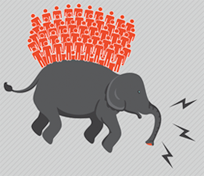 Another downside of sharing a system (or an elephant!) with thousands of other users at a time is that you are unable to treat it like it's your own. Your needs are solved slowly , or, if it doesn't benefit the group, not at all.
RIDE YOUR OWN ELEPHANT
Customizable Software for YOU
With 360e, everyone gets their own elephant. That means you can finetune and customize your system without limitation.
Need a specific module, report or feature developed? Not a problem!
We also offer business-building services to support the organic side of business development.
Look to us for process improvement, team-building, efficiency assessment, growth strategies, and more!
Give us 15 minutes, we'll give you your weekends back!